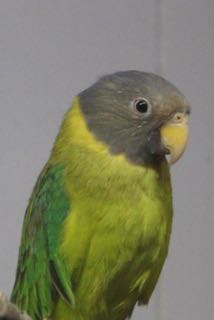 34cm (13½in), 70-80g (2½-2¾oz) Asian parakeet.
A quieter, gentler, colourful relative of the more common Indian Ringneck. Active and acrobatic, with excellent talking potential.

Prior to 15 months age, males and females are mostly green with a bit of grey and dull orange on the face. Juveniles 15-30 months have a grey-plum head edged in yellow, this is also the permanent adult plumage for females. Adult males over 30 months age are green with a blue tail, red wing patch, and pink-plum head edged in black and turquoise.
The lutino mutation (yellow with pink head) is extremely rare.