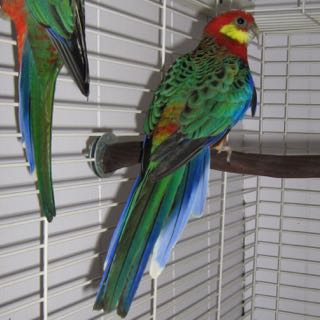 26cm (10½in), 55-75g (2-2¾oz) Australian rosella.
Smallest, gentlest and quietest of the rosellas.
Friendly and acrobatic, with a pleasant voice.

Males have a bright red head, neck, chest and abdomen, with bright yellow cheeks. The back wings, rump and tail are green and blue, with black scalloping on the back and wings. Females have green scalloping on the red and yellow areas.
The blue mutation is rare.

We have only a hen, who lost her mate several years ago.