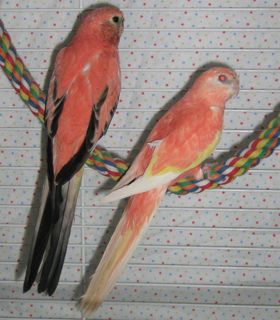 19cm (7½in), 40-50g (1½-1¾oz) Australian grass parakeet. Formerly included in the neophema genus.
Friendly and docile, usually compatible with finches and quail.

Males have a brown back with yellow lacing on the wings, a pink abdomen, brown towards the throat, and a blue forehead, shoulders, and flight feathers, and a turquoise rump. Females have more brown and less blue and pink, they usually lack the blue forehead completely. Mutations can be sexed by behaviour, once mature.
Our favourite mutations are rosy opaline (pink back instead of brown), lutino (no brown or blue), and rubino (opaline-lutino combo).
We have 3 males and 5 hens.